For inclusion in the 3rd edition of Eskilson's Graphic Design: A New History, I propose graphic and digital designer Muriel Cooper. Working roughly from the mid 1940's to her death in the mid 1990's, Cooper worked in advertisement after her obtaining her BFA in design and BS in education 1944 from the Massachusetts College of Art. In 1952, Cooper became the first art director of the Massachusetts Institute of Technology publication office, now known as the MIT Press. She went on to design the renowned seven-bar colophon, a highly-abstracted version of the lower-case letters "mitp", which became the identifying logo for the publication press and demonstrated her reductive, functional, geometric Bahaus design style. Along with teaching at the Institute, Cooper also founded MIT's Visible Language Workshop where she taught experimental printing and hands-on production (Walker Art Centre). By the mid 1980's, she was one of the founding members of the MIT Media Lab where she contributed to designing early computer interfaces.
Muriel Cooper, mechanical artwork for the MIT Press colophon, 1963–4.
Along with her colleagues and hired designers, Cooper promoted a Bauhaus-influenced, modernist style to MIT Press' publications (McBroom).  Cooper also felt increasingly restricted by the limitations of the canvas of a printed page and by the contemporary design production of her time, which was dictated by mass-production stemming from the Industrial Revolution. In fact, Cooper wanted designers to produce their work again as they did prior to this mass-production model that separated design and manufacturing. Cooper also believed that emerging technologies (such as the Macintosh personal computer and HP Laserjet printer of 1984) could empower designers. She was a strong advocate for the use of emerging technologies by designers in order for them to escape the restrictions of 21st century mass-production model, which was defining both the design process and the final product (Armstrong, 13). She encouraged her design students to hack and fiddle with production equipment themselves in order to put their own design production back into their hands. In this way, Cooper believed that production technologies could allow designers to rework and test their projects more easily, and that computers could permit these artists to work more instinctively and cooperatively with other designers and tech users (Armstrong, 14). She also focused her research on virtual information landscapes; she believed that the computer screen offered more depth and more possibilities in terms of design space manipulation where information could be in motion, streamed, and alive rather than be static and printed (Walter Art Centre). The computer offered thus an alternate space or landscape in which design could live. By promoting her ideas, Cooper believed that through the use of technology, designers would have increasing experimental space, possibilities, freedom, and time to alter their design as well as gain more control over the production of their final product.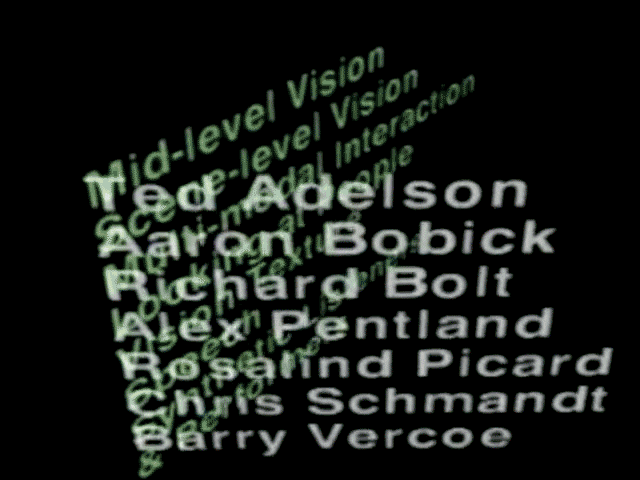 Typography in Space: a three-dimensional typographic space where the reader can browse freely.© MIT Media Lab (M. Cooper, D. Small, S. Ishizaki).
By the teachings, workshops, and implementations that Cooper presented and initiated throughout her career as art director for MIT Press and as a professor at the institute, she revolutionized electronic communication and pioneered computer design interface graphics. For all that she has contributed to graphic design history through her role as an art director, as an innovative designer, and as a woman in a field more or less dominated by men, Cooper deserves a significant place within Eskilson's future edited edition of Graphic Design: A New History.
Muriel Cooper and Ron MacNeil, Messages and Means course poster, designed and printed at the Visible Language Workshop, MIT, c. 1974.
Works Cited
Armstrong, Helen. Digital Design Theory: Readings From the Field. Princeton Architectural Press, 2016.
McBroom, Brock. "Muriel Cooper." History of Graphic Design,
www.historygraphicdesign.com/index.php/the-industrial-revolution/popular-graphics-of-the-victorian-era/238-johann-alois-senefelder.
"Muriel Cooper: Turning Time into Space." Walker Art Center, walkerart.org/magazine/muriel-cooper-turning-time-into-space.