Tadanori Yooko is one of Japan's most highly recognized graphic designers and artist. He was originally trained as a painter and worked as a stage designer for a Tokyo based Avante Garde theatre. Tadanoori's work was often very personal, reflecting his own personal interests. Beginning his graphic design career in the early 1960s, Tadanoori incorporated both eastern and western styles into his work to reflect a collective of Japanese society at the time. Tadanoori's early work was heavily influenced by ukiyo-e style and the flat colours of pop art; which he incorporated with photography. Because of the major influence of pop art in his work at the time, many referred to him as the "Japanese Andy Warhol". Towards the late 1960s and early 1970s, Tadanoori grew interest in Indian culture and Bhuddism, incorporated many religious and universal images in his work. He designed many album covers for rock and folk musicians who he became acquainted with through his "spiritual quest"; including the Beatles, Emerson, Lake and Palmers, Carlos Santanas and Cat Stevens. In the 1990s, Tadanoori began incorporating digital design in his work. He even went through his old work and reworked them digitally. A large exhibition of Tadanoori's work was held in 1998 with over forty thousand in attendance over a thirteen day period. Tadanoori retired working commercially in 1981.
Koshimaki-Osen, 1966 and The Rose-Colored Dance, A La Maison De M. Civecawa 1966
Tadanoori's work is high personal, even in his commercial work. He incorporates his own personal themes, photographs and references his own anti-modernist style in his work, making it immediately recognizable. His work often teeters between fine art and design, having no limitations or rules in his work, with inspiration from Japan aesthetics, psychedelics, science fiction and spiritualism.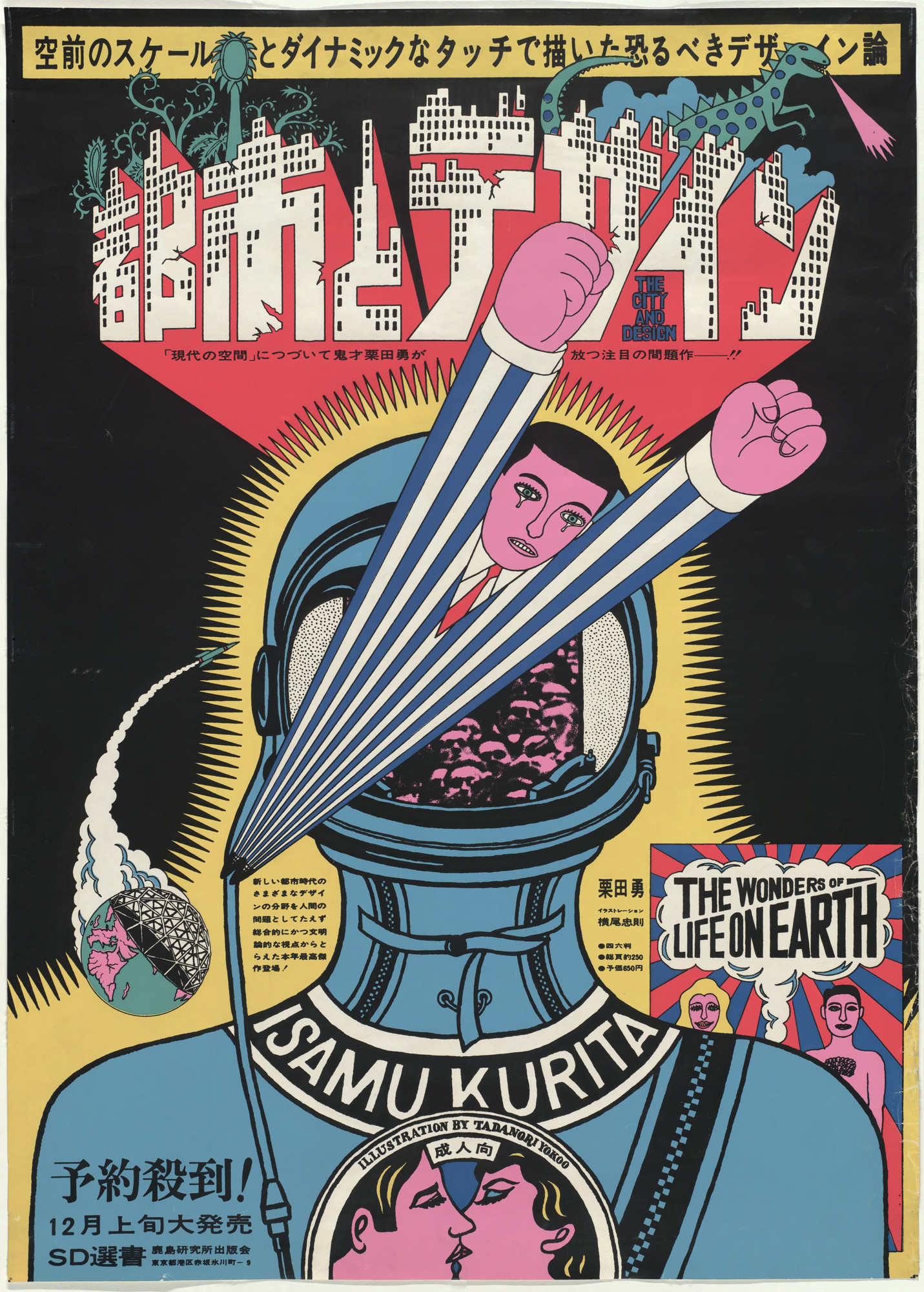 The City and Design, The Wonders of Life on Earth, Isamu Kurita, 1966
Works Cited
https://collection.cooperhewitt.org/people/18054231/bio
http://www.designishistory.com/1960/tadanori-yokoo/
https://www.moma.org/artists/6502?locale=en
https://www.tate.org.uk/whats-on/tate-modern/exhibition/ey-exhibition-world-goes-pop/artist-biography/tadanori-yokoo