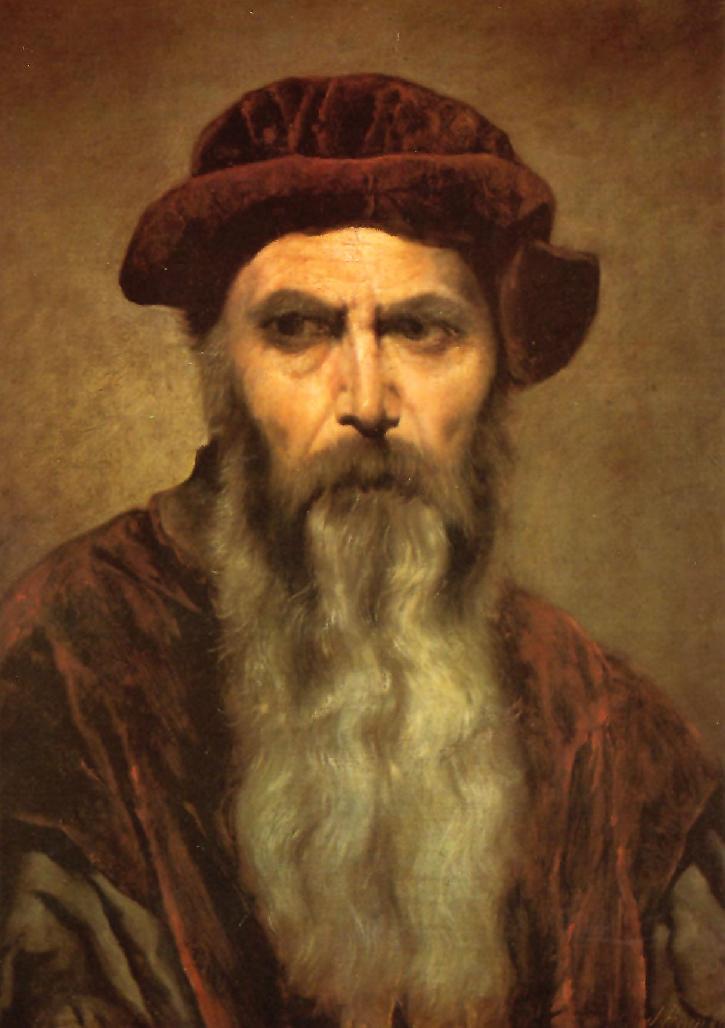 Q: Johannes Gutenberg! What an honour it is to meet the very man responsible for the many things we monopolise today!
A: *chuckles*. The honour is mine. It's my first time being interviewed for my inventions, I'm honestly very pleased that what I intended to do continued to gained momentum and that I'm somewhat being recognised for playing a role in the mass printing process.
Q: It was certainly very difficult to score an interview with you. Physically transporting you from the 14th century to the 21st was no easy feat, it required a lot of manpower! *laughs* Now I'm sure from your perspective everything you've seen is rather overwhelming, isn't it?
A: Absolutely. It's quite startling to physically see things I could only ever imagine. To witness how far publishing books and other mass-producing media has come… it's truly a spectacle to behold and I still fail to understand how many machines operate. This… *gestures to the mic* for example… a machine that is capable of capturing audio and record sounds… it's utterly baffling.
Q: Why don't we focus on other matters at hand. According to your documents, you were training as a blacksmith before you decided to suddenly pursue your printing press ideals. What drove you to carry out such a magnificent ordeal?
A: My blacksmith knowledge was initially what lead me to other possibilities. Tinkering with machinery allowed me to build an understanding of metal properties and that was then where I discovered a new alloy that was optimum for type production. This made me question and think to myself, 'Johannes, why don't you put your skills to use and make something useful that people will remember for generations!'. I was quite idealistic back then and I possessed a certain curiosity and hopefulness that I could contribute something incredible which would alleviate every humans' accessibility to literacy.
Q: Did you realise how impactful your inventions would later become? Your legacy continued for hundreds of years, until the design was enhanced and refined by another fellow.
A: You credit me too much! I only wanted mankind to overcome this seemingly impenetrable obstacle that isolated people and prevented them from pursuing any information they desired. In my time, people were apprehensive because what I was trying to accomplish *clears throat* it wasn't something anyone had accomplished or let alone considered the very possibility. It was difficult to gauge its success because it was a project of mine that sadly didn't garner any support at the beginning…
Q: Could you tell me a little about what happened during the first mass printed book, The Gutenberg Bible?
A: Certainly. In terms of the process, it took a large amount of time and effort, many people were involved. I wanted the printing standard to be presented neatly and have a basic composition that made reading the information quite an easy task. If the text covered the entire page leaving no space, this would be too straining and no one would read. The idea was to continue publishing books of this standard, this would keep people engaged and enjoy the actual task. All the letters were printed in black and uniformly sat next to one another, similar to handwriting so people transitioning from scrolls and written texts to the printed books would have no trouble. The larger sized characters were hand painted in red, this was the responsibility of a craftsman. In the end, it was very satisfying to witness the final assembling of the book. Truly a moment I won't forget.
Q: What were some of the hardest challenges you faced during these trials? Were there perhaps any restrictions?
A: Hmmm… The most difficult part wasn't the assembly of the print press, but rather the procedure of crafting each individual letter. It was an extremely tedious process, I had to perform trials every day for hours on end. Before I could even operate the printing press I first had to determine the appearance and character of each letter, once that was complete I had to set it in relief which was a very long process. Now the tricky part was testing to see whether the machine liked it or not. If it didn't like it! Well. There goes a few day's worth of time! That printing press was very fussy, it took months to refine each letter until the press finally agreed with it. And that was that.
Q: It's time we wrap things up, but it's been an awfully nice chatting with you. Thank you, Johannes.
A: It's been wonderful discussing my printing passion with you. Thank you. *Shakes hand with interviewer*