One area of graphic design that I think Graphic Design: A New History would benefit from including, is that of pulp magazines, specifically from the early 1900s. During that era of increased access and appetite for different genres of print media, the diversity of target audiences necessitated different visual languages. Due to the niche genres involved, many of the stylistic choices and subject matter persisted for a long time, even into the modern era.
Pulp magazines, similarly to the "yellowback" novels of a few decades prior, were considered by critics to be a waste of time, at best, and actively immoral, at worst. They were printed very cheaply, featuring garish and sometimes scandalous illustrations. The design and type lacked the sophistication of more respectable publications. They were also very popular with youths, immigrants, and working-class readers especially.
Rudolph Belarski. Hibiscus and Homicide. Thrilling Detective, New York City, 1947.

Margaret Brundage. Queen of the Black Coast. Weird Tales, New York City, 1934.
Pulp magazines were set apart from other print media in how cheap they were- this graininess is visible in the examples shown above, and it reflects the coarse paper they were printed on. The slick, glossy paper of the more high-end publications was out of reach financially for both the pulp publishers and their audiences. Interestingly, pulps also had fewer advertisements than other magazines, probably because their readers were considered too poor to bother marketing to.
Visually, pulp novels share a certain aesthetic. They usually have bright colours, with less of a cohesive brand appearance uniting the issues. The text is bolder than many other magazines of the time, and often employs warping or perspective tricks to add dynamism to the composition. While the printing and design can be crude, it is striking to see how similar they can look to book covers today.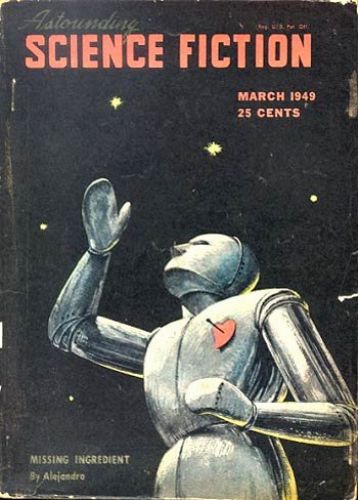 Robert Quackenbush. Missing Ingredient. Astounding Science Fiction, New York City, 1949.
In my opinion, pulp magazines were an important part of lower-income media consumption in the early 1900s. Their ubiquity, cheapness, and popularity makes them interesting cultural artifacts that can be studied in many ways. And while the pulps themselves degraded quickly due to low-quality paper, their effect on modern book cover design is undeniable.
Works Cited:
Benefiel, Candace R. "Shadow of a dark muse: reprint history of original fiction from Weird Tales 1928-1939." Extrapolation, vol. 49, no. 3, 2008, p. 450+. Academic OneFile, http://link.galegroup.com.ocadu.idm.oclc.org/apps/doc/A198731714/AONE?u=toro37158&sid=AONE&xid=004354e9. Accessed 08 Apr. 2019.
Smith, Erin A. (Erin Ann). "How the Other Half Read: Advertising, Working-Class Readers, and Pulp Magazines." Book History, vol. 3, 2000, pp. 204-230. Project MUSE, doi:10.1353/bh.2000.0013
Smith, Michelle. "From 'The Offal of the Magazine Trade' to 'absolutely priceless': considering the Canadian pulp magazine collection." English Studies in Canada, vol. 30, no. 1, 2004, p. 101+. Academic OneFile, http://link.galegroup.com.ocadu.idm.oclc.org/apps/doc/A169457855/AONE?u=toro37158&sid=AONE&xid=9ad17b80. Accessed 08 Apr. 2019.
Stanchak, John E. "Pulp fiction: back in the '40s, if you could spare a dime, you could dive into the fun, fantasy–and, sometimes, naughtiness–of pulp fiction magazines." America in WWII, Feb. 2010, p. 44+. Academic OneFile, http://link.galegroup.com.ocadu.idm.oclc.org/apps/doc/A400785194/AONE?u=toro37158&sid=AONE&xid=5bb39f51. Accessed 08 Apr. 2019.