The IKEA bedroom-studio of Polish artist Margo Hupert (Dan Duchars via IKEA.com)
First and foremost, I'll admit that I am not a designer. I'm a painter and printmaker but I've never really considered my relationship to design in general, let alone graphic design in particular. I paint a lot from photos-personal or found on social media-and more frequently I notice something lurking in the softly illuminated interiors or high contrast snapshots. IKEA.
Whether it's the classic yellow and blue of the Swedish furniture company's logo or the sharp lines of their most popular storage solutions I continue to find myself playing the ongoing IKEA Spotting game with myself.
Their website has a handy About Us page that outlines the changes their logo went through. Here's a hint:
It Wasn't Always Blue And Yellow.
IKEA Logos from 1951-1983
I showed this diagram to my mother who has been purchasing IKEA products since the early 80s and owns about 17 BILLY bookcases. She was baffled. She thought I was punking her. "What is that, a wax seal? A smudge of …?" well, you know. It hadn't occurred to her that this play on the Swedish flag hadn't always been the logo.
Last year, IKEA had their logo adjusted oh so subtly by Seventy Agency, a Stockholm brand agency. Apparently, the result is a "future proofed" logotype.

     IKEA Logo redesign diagram by Brand New, 2019.
        IKEA Logo as redesigned by Seventy Agency, 2019.
As you can see, the changes are almost unnoticeable to the passing viewer. The already minimal serifs have been shaved down even further, and the characters have gotten weightier. That ® makes it into the oval, not just on the outside of the rectangle. That logo is most definitely a registered trademark no ifs and or buts about it!
IKEA is named after the initials of founder Ingvar Kamprad, Elmtaryd, the farm on which he grew up, and Agunnaryd, the nearby village.
Earlier this week I had been reading an article shared by a friend in Tel Aviv about a coronavirus incident at IKEA in Rishon Lezion. The first thing I was struck by was what I assumed was the Hebrew translation of the IKEA logo.
    IKEA in Netanya. (Yossi Aloni/Flash90 via The Times of Israel)
After seeing this, I looked for more versions of the logo in different languages. Not unsurprisingly, most images I found were used in the context of coronavirus reporting and IKEA's response.
    An IKEA store facade in China (Ma Jian/VCG via Getty Image via Architectural Digest)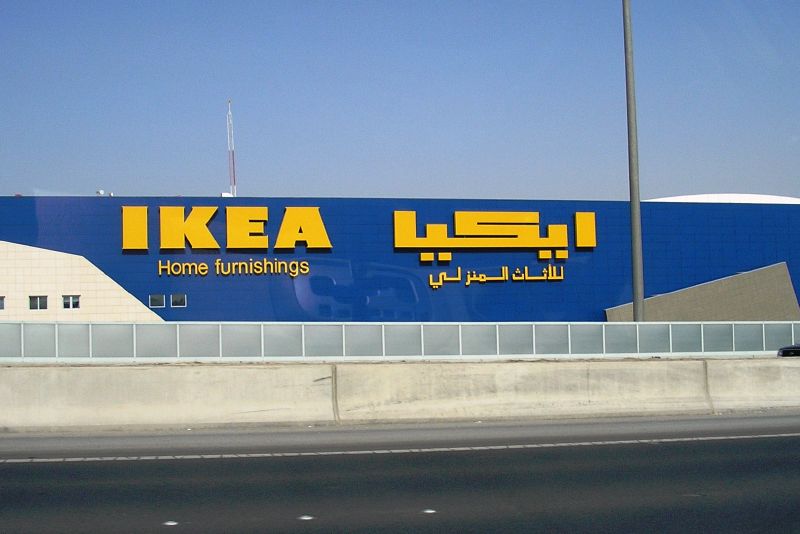 IKEA in Kuwait 2006 (Simon Chapman via Flickr)
What I personally find so satisfying is that each of these logos in a non-Latin type are still explicitly IKEA. I love that designers have taken the "standard" logo and adapted it to fit within other alphabets and still have the essence of the Swedish furniture store.
Even without the logotype on the building, the design choices in the facade and architecture of the warehouse store and intrinsically linked to the IKEA branding.
     IKEA in New Haven, Connecticut USA (Cliff via Flickr)
"To create a better everyday life for the many people," this is the IKEA vision. Our business idea is "to offer a wide range of well-designed, functional home furnishing products at prices so low that as many people as possible will be able to afford them."
It's no wonder I can't stop seeing IKEA products everywhere.
It's because They Are.
---
Works Referenced
"About IKEA – Our Heritage." IKEA, www.ikea.com/ca/en/this-is-ikea/about-us/our-heritage-pubad29a981.
Armin. "No Assembly Required." Brand New: New Logo for IKEA by Seventy Agency and 72andSunny Amsterdam, UnderConsideration, 11 Apr. 2019, www.underconsideration.com/brandnew/archives/new_logo_for_ikea.php.
"Authorities Looking to Punish Man Who Shopped at IKEA Knowing He Was Sick." The Times of Israel, 1 May 2020, https://www.timesofisrael.com/authorities-looking-to-punish-man-who-visited-ikea-knowing-he-was-sick/.
"Company Information." IKEA, www.ikea.com/ca/en/this-is-ikea/company-information-pubf1695191.
KEA Democratic Design : Sign démocratique IKEA. IKEA, 2018.
Hitti, Natashah. "IKEA's Iconic Blue and Yellow Logo Made 'Future Proof' in Subtle Redesign by Seventy Agency." Dezeen, 29 Apr. 2019, www.dezeen.com/2019/04/25/ikea-logo-redesign-seventy-agency/.
Lamb, Katherine, et al. "Ikea, Uber, and the Western Sahara: The Politics of Corporate Recognition." Brown Political Review, 2 Nov. 2015, brownpoliticalreview.org/2015/11/ikea-uber-and-the-western-sahara-the-politics-of-corporate-recognition/.
Nelson, Tim. "As Coronavirus Spreads, Multiple Design Organizations Are Taking Action." Architectural Digest, 6 Feb. 2020, https://www.architecturaldigest.com/story/coronavirus-spreads-design-organizations-taking-action.