Left 4 Dead 2 is a 2008 first-person shooter survival horror game under the background of the zombie apocalypse. Players have to cooperate to survive and move through the map to reach the safe room. Different weapons can be found on the map, such as pistols, axes, and saws. 4 or fewer players can join one game and play together and players are free to join online rooms to play with strangers. I first played this game in 2015 in my freshman year, and I found the cooperative mode fun especially when you play with friends.
The aesthetics of the game is rather realistic and in the 2010s. As the screenshot is shown below, the "common infected" are all in the human form, with blood over their body and mutant skins. They walk with classic zombie posture and usually appear as a group. In the game, when the player fights the zombie, the zombies don't seem like humans but rather monsters. There are also special types of the infected, the Boomer, the Hunter, the Witch, the Tank, and the Smoker. These 5 types of boss infected have a more horrifying look and unique abilities. The overall atmosphere of the game is quiet and dark. Many maps are set as the night time.
To make the game more fun and customized, players can install the mod to change the appearance, map, and features of the game. The quickest and easiest way is to download and install mods uploaded by others on the Steam Workshop menu.
I installed this mod that replaces the common infected with the robot, which immediately changed the aesthetics of the game. The game transformed from a zombie game to a robot fighting game.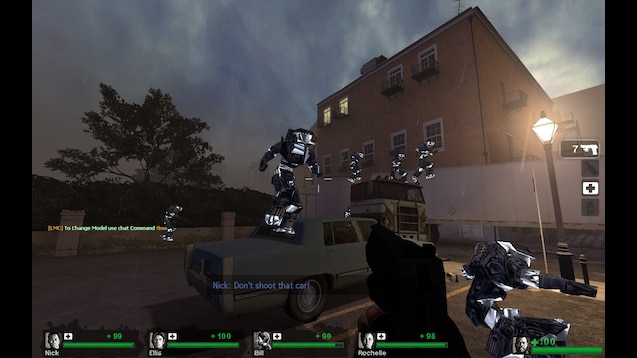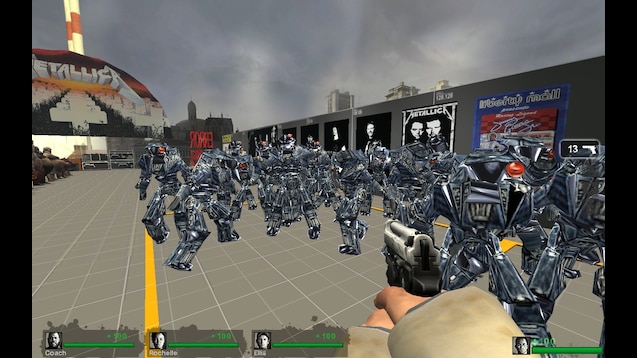 In the world of the game mod, it's always easy to find Japanese character replacement for NPCs. I also tried this one that replaced the zombies with various Japanese virtual YouTubers. You can see the aesthetics now is different from the last one and the original. The category of the game could have even changed from horror FPS to regular FPS. The mod takes away the horror atmosphere and offers the player the opportunity to play with their favorite characters.