i tried out serena's AR filter – i liked that even though i was inside my house, and the weather was cold outside, i could have a piece of nature in my room. i enjoyed the interactivity of moving around the flowers and butterflies to make my own unique garden scene. next, i interviewed serena to learn more about her project.
where did you get the inspiration for your AR filter?
I got the inspiration for this filter from Allen Gardens in Toronto. It's a pretty big greenhouse, and I used to go there a lot to take photos.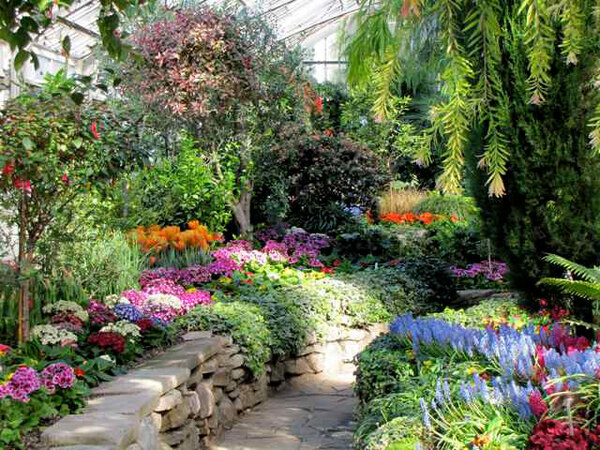 photo of allan gardens (2009) by charlotte weychan
where did you get the assets from? how did you decide which butterflies and plants you wanted to use?
I got a lot of the assets from pixbay and pexels. I chose those images because I wanted a variety of colours to make sure they didn't blend in with each other.
while making the filter, did you imagine people using it? how would you expect people to interact with it?
When I was making the filter I didn't really think about other people using it, I kind of just made it for my own enjoyment. I thought it would be cool to be able to create your own mini garden to take photos.
what type of environment would you like to see your filter being used in?
I think this filter works best in the outdoors, since my original idea was to create a filter that enhances real greenery.
did you face any challenges while making this filter?
When I created this filter I first tried to make it in 3D, using 3d assets(some of my own, some downloaded ones) But I couldn't figure out how to track the models in lenstudio so they would stay in the same space as you move, so I just switched to 2d.
if you had more time, would you have done anything differently?
If I had more time I definitely would have tried more to make the 3D models work.
what did you learn while making the filter?
I learned that creating AR filters on snapchat is a lot easier than I originally thought.
do you plan on making any more filters in the future?
I don't have any plans to make any new filters in the near future, but I liked creating this one so I will probably create another one for fun in the future, probably recreating this one with 3D models.
after hearing about serena's process, i gained more insight about what went into making the filter and its inspiration. it was cool to learn more about what fueled her artistic decisions. i think this filter has the potential to bring a little more positivity to people's lives especially in the cold wintertime.